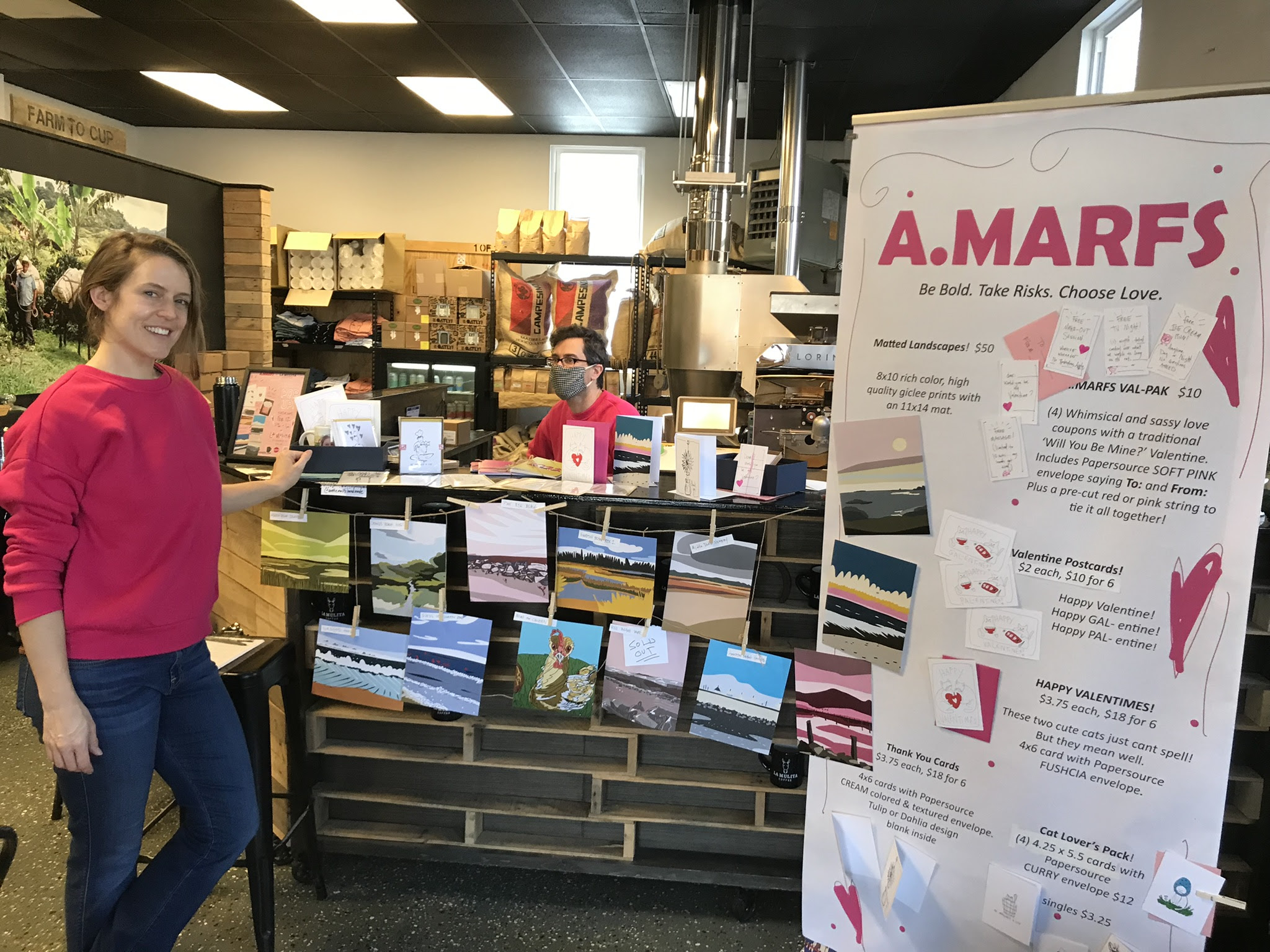 Thank you La Mulita and all the Mulita fans for showing your love this Valentine's weekend!
My first A.MARFS pop-up shop was a massive success!! I think I talked to and handed out 'Valentimes' stickers to every single person that walked into La Mulita on Saturday (until I ran out!!). Thank you to all who showed up. <3 

I figured this might be a good time to introduce myself a bit more formally to those who are new to me and A.MARFS--- and perhaps, for those who just don't know!

My name is Marianne Bayard and I was born and raised in Massachusetts.  After graduating with an acting degree from Emerson College in, I set forth to find fame and fortune in NYC. After a few years of resturanting, temping, real estating and handing out fliers for Herald Square's Famous Footwear, I moved to Paris to study clown with the esteemed, yet formidable clown teacher, Philippe Gaulier (NYTimes article here).
Here we are doing 'bouffon', a grotesque, lowly clown type. You can see the confusion on my face.
Clown was hard. I didn't know what I was looking for and at the time I wasn't sure if I had found it. In 2007, I came back to Boston, got a job, did some acting gigs, and continued to try to get famous. It was slow going.

Fast forward seven years and many day-jobs later, to Queens, NY. I was working on a TV show when Facebook nudged me to connect with a fellow Long Island clown named Jonathan Kaplan. We got together at a cafe in Astoria one afternoon and right away I knew he'd be my key to fame.
 In 2015, Jonathan and I wrote and taped 8 five-minute episodes about a fame hungry actress, Mares, and her co-dependent bestie, Kaps. This became our first ever web series Killing It. We soon found ourselves on Amazon Prime, winning laurels at festivals and gaining fans and making industry connections.
In 2018 we began again, this time following Mares and Kaps as they impulsively leave their day jobs for the pursuit of fame in Glitzburgh.  By early 2020, the first episode of Mares & Kaps was shot and edited but COVID brought all momentum to screeching halt.
Side note: it was also during this time that I began selling hand drawn cards with cats and flowers on them. This became Auntie Marfs Handmade, a business that would re-appear 3 years later…
Back to Mares & Kaps...

During lock down, we made the good decision to hire a masterful script doctor who helped us shape our story into what it is now: a wild and wonderful Wizard of Oz, meets Tim Burton, meets Eastbound and Down kind of comedy! 
In 2021, my husband and I moved back to Massachusetts, this time landing on the North Shore. After being in western Pennsylvania for 4 years, I knew I needed to be near the ocean but I didn't know how inspired I would be. Lo and behold, I fell in love! Hampton, Rye, Newbury, Ipswich. I wanted it all!
In a year's time I made over 100 digital drawings and opened an online store called A.MARFS, a riff on what my nieces and nephews call me (Auntie Marf).


That brings us to current day, real time! Jonathan and I continue to pursue a way to production with Mares & Kaps, and I continue to draw and share my art, hoping to inspire and encourage those around me to be bold, take risks and choose love (the A.MARFS motto 
).
 
That's it. Now you know the whole story. 

Thank you for reading my epic story and thank you for your support. 
Please check out Mares & Kaps  and of course, A.MARFS.

And if you like what you see, please share with friends.
 
Love and thanks, 

Marianne
Mares
Marf